South African-born artist Pippa Smith will take on the role for a three-year period culminating at the end of the 2024-5 season
The London Chamber Orchestra named a South African-born artist Pippa Smith as a partner artist for a period of three years culminating in the end of the 2024-5 season.
In his new role, Smith will produce imagery to support the orchestra's musical offering, including the design of concert programs (as pictured below).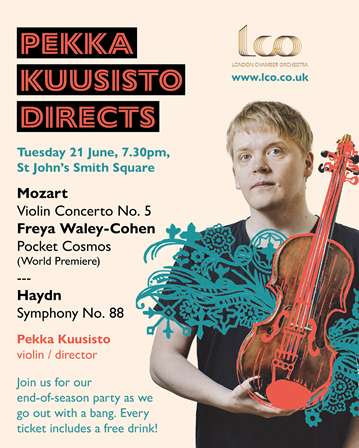 Smith said: "I am so thrilled to work alongside such an established and respected organization that has taken such great steps to embrace inclusivity, diversity and equality. I firmly believe that who we are shapes our art, and if it is stifled or marginalized, it becomes our creative product. It's exciting that LCO seems to mirror that, which really cements our compatibility.
Her appointment follows a successful trial period in the 2021/22 season during which she chose to work in the linoleum industry. She would return to this medium during her tenure, using the hybrid approach of cutting and printing by hand, then transferring the image to a digital format.
Founded by Anthony Bernard in 1921, the London Chamber Orchestra is the UK's oldest professional chamber orchestra, having celebrated its centenary last year. It is committed to supporting emerging composers and commissioning new music with composer Dani Howard named composer-in-residence for the 2022-3 season.
You can find out more about the London Chamber Orchestra here.